Ingredients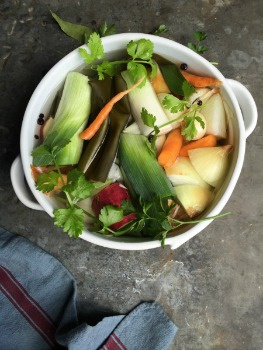 6 unpeeled carrots, rinsed well and cut into thirds.
2 unpeeled medium yellow onions, rinsed well and cut into chunks.
1 leek, white and green parts, rinsed well and cut into thirds.
1 bunch of celery, including the heart, rinsed well and cut into thirds.
4 unpeeled red potatoes, rinsed well and quartered.
2 unpeeled Japanese or regular sweet potatoes, rinsed well and quartered.
1 unpeeled Garnet yam (sweet potato), rinsed well and quartered.
5 unpeeled cloves of garlic, rinsed well and halved.
½ bunch of flat leaf parsley.
1 (8-inch) piece of kombu sea vegetable
2 bay leaves
12 black peppercorns
4 whole allspice or juniper berries
8 quarts of cold, filtered water, plus more if needed.
sea salt
Procedure
1) In a 12-quart or larger stockpot, combine the carrots, onions, leek, celery, potatoes, sweet potatoes, yam, garlic, parsley, kombu, peppercorns, allspice or juniper berries, and bay leaves. Add the water, cover and bring to a boil.
2) Decrease the heat to low and simmer, and simmer, partially covered, for at least 2-4 hours. As the broth simmers, some of the water will evaporate; add more if the vegetables begin to peek out. Simmer until the full richness of the vegetables can be tasted.
3) Strain the broth through a large, coarse-mesh sieve (remember to use a heat resistant container underneath), and discard the solids. Add one teaspoon sea salt or more to taste.
4) Let cool to room temperature, before refrigerating or freezing.
Rebecca's Notes: This recipe is designed for a 12-quart or larger stockpot. If you only have an 8-quart pot, cut the recipe in half. Soup-making will be a cinch if you keep this broth on hand; store it in 1 quart containers in the freezer. It is also great for just plain sipping.
The longer you simmer this broth, the more flavor and nutrient density it will have. if you don't want to tend to it for hours on end, you can also cut the recipe in half and make it in a slow cooker.
What is kombu? it is a long, dark brown to black seaweed that's dried and folded into sheets. Kombu is a natural flavor enhancer, and it contains a full range of trace minerals. It keeps indefinitely when stored in a cool, dry place. Look for it in the Asian section of your grocery store.
Sarah's Notes: This broth is a cornerstone recipe in our Nutrition in Essence class. Use it as a stock for making soups or drink it as a hot or cold drink. It was created by Chef and Nutritionist Rebecca Katz. For more of her wonderful recipes, visit her blog here. You can also view a video of her making her Magic Mineral Broth recipe here. Safety tip: If you are freezing this broth in glass, use a freezer safe container and be sure to leave at least an inch of space at the top of the jar between the top of the liquid and the top of the jar. When straining the broth, I like to line the sieve with cheesecloth. If you can, please choose organic vegetables.
Posted here with permission.