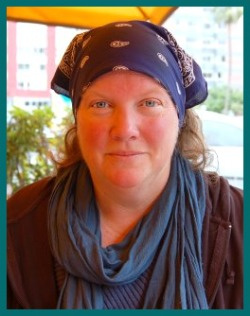 Sarah has practiced as a Nutrition Consultant and has taught nutrition in various adult education schools since 1996. Sarah received a Diploma in Nutritional Medicine (D.N.Med.) in London, England. She also has a Master's of Science degree (M.S.) in Nutrition and is a Certified Nutritionist (CN) and a Certified Nutrition Consultant (CNC) in America.She is the author of Nutrition in Essence, published in the U.K. in October, 2006 (and available in the U.S.) Sarah is also a certified Natural Foods Chef. In addition to her formal chef training in America, she studied cooking overseas in Japan and England, and received culinary teaching credentials in these countries.
Sarah's approach to nutrition consulting is unique in that she combines her formal education in nutritional biochemistry and nutrition sciences with her training as a chef as she designs personal nutrition plans for her clients. Sarah passionately believes that scientifically backed nutrition advice should be accompanied with practical suggestions for meals and that meals should be enjoyable and delectable as well as nourishing. She is best known for her ability to listen to her clients and then incorporating their needs into food plans that are do-able. Roots to Health also sponsors and hosts various cooking and food preparation classes and classes in other aspects of integrative health.
In addition to nutrition, Sarah complements her private practice by advising her clients on the safe and effective use of herbs, essential oils and natural remedies. She studied herbalism with a Master Herbalist for two years and she is also a classically trained aromatherapist, having completed the diploma program in Aromatherapy with the Tisserand Institute in London, England.
Sarah is the nutrition instructor for The California School of Herbal Studies and for The Ohlone Center of Herbal Studies. Previously, she developed and taught the Nutrition and Lifestyle Management program to practitioners at the Tisserand Institute in London, England and was a nutrition lecturer for the Natural Chef Training Program at Bauman College.
No stranger to public speaking, Sarah was a featured speaker at the 2007 conference of the National Association of Nutrition Professionals (NANP). She was also the featured clinical expert for Designs for Health's Clinical Rounds teleseminar in August 2006.
Sarah created Roots to Health to provide a community resource for nutrition, culinary arts and integrative health. Sarah currently attends various seminars and conferences in nutrition and functional medicine every year in order to receive continuing education credits and to remain up to date in current research.
To view Sarah's resume / curriculum vitae, click here.